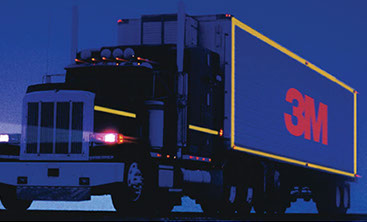 3M™ Conspicuity and Reflective Markings
Part No. 3MW – White
Part No. 3MY – Yellow
Part No. 3MR – Red
Part No. 3YG – Fluro lime
A full line of 3M™ reflective conspicuity markings to improve the visibility of trucks, trailers, tankers, school buses, public works vehicles, emergency response vehicles, and law enforcement vehicles.
Transcom Industries promotes the Australian Tucking Industry Association standards for truck visibility. With the following colour tape positions.

Front of truck – White
Side of truck – White / Yellow
Rear of truck – Red
For more details click here.



PLEASE NOTE: There are many reflective tapes available on the Australian market, but not all are manufactured to the highest quality and may not suit Australian conditions. Be aware when making a selection.